The teleconference on Saturday, April 13, 2013, 7:00PM-9:00PM (EDT) [4:00PM-6:00PM (PDT)], will be conducted in the form of a Dhamma Deshana by Ven. Harispattuwe Mangala Thero of Saranatha Maha Pirivena, Kandy, Sri Lanka, followed by a Question and Answer / Discussion session.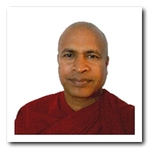 Ven. Harispattuwe Mangala Thero's Dhamma Deshana will be based upon:

Dhammapadaya - Yamaka Vagga: Verse 12
[The wise person who is able to recognize the true values leading to spiritual attainment, is capable of attaining to spiritual heights. Such a person is possessed of right views].