PARTICIPANTS JOINING FROM COUNTRIES OUTSIDE NORTH AMERICA:  PLEASE NOTE THAT THE NORTH AMERICAN TIME WAS ADJUSTED LAST WEEKEND FOR WINTER TIME BY BRINGING THE CLOCK BACKWARDS BY ONE HOUR.  AS AN EASY REFERENCE, PLEASE NOTE THAT THE DHAMMA CONFERENCE NOW BEGINS AT 5:30AM SUNDAY, SRI LANKAN TIME.

Please use https://panel.turbobridge.com/webcall/  on a browser to join the conference using a web call if you experience any issues joining the conference using Skype.
The teleconference on Saturday, November 11, 2017, 7:00PM-9:00PM (EDT) [4:00PM-6:00PM (PDT)], will be conducted in the form of a Dhamma Deshana by Ven. Matthumagala Chandananda Thero of Manitoba Buddhist Vihara, Winnipeg, Manitoba, Canada, followed by a Question and Answer / Discussion session.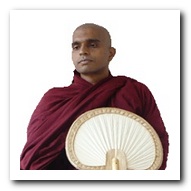 Topic for Ven. Matthumagala Chandananda Thero's Dhamma Deshana will be:

Letting-go is the Path to Unshakable Peace