The teleconference on Saturday, March 9 2019, 7:00PM-9:00PM (EDT) [4:00PM-6:00PM (PDT)], will be conducted in the form of a Dhamma Deshana by Ven. Millagala Vimalasiri Thero of Sri Saranatha Vidyapeeta Maha Pirivena, Halloluwa, Kandy, Sri Lanka, followed by a Question and Answer / Discussion session.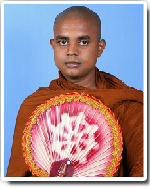 Topic for Ven. Millagala Vimalasiri Thero's Dhamma Deshana will be:

The Virtue of Generosity or Giving (Alms) Helps to Rid One's Mind of the Defilements by Conditioning the Mind to Let Go of Attachments and Extinguish Ill-will.