The teleconference on Saturday, January 11 2020, 7:00PM-9:00PM (EDT) [4:00PM-6:00PM (PDT)], will be conducted in the form of a Dhamma Deshana by Ven Bhikkhuni Bodhicitta Theri of Nisala Arana International Centre for Inner Peace and Happiness, Melbourne, Australia, followed by a Question and Answer / Discussion session.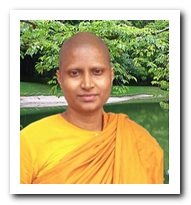 Topic for Ven. Bhikkhuni Bodhicitta Theri's Dhamma Deshana will be based on the following Dhammapada verse (Dhammapada - Yamakavagga, Verse 11):  
"Asare Saramatino
Sare Casaradassino
Te Saram Nadhigacchanti
Micchasankappagocara"
[They take untruth for truth; they take truth for untruth; such persons can never arrive at the truth, for they hold wrong views].